Hi, I've been on this site for a while but this is my first report. I've also seen a few of you guys at cons over the years and recognized you guys from this site. Anyways, I've been collecting for a few years but have gone to a lot more cons in the past year or so.
This was my first pic with boy band Big Time Rush from all the way back in 2012.
My first con ended up being the Creation TVD con. It was my first con so I had a great time watching the panels and taking pics with the actors.
Nathaniel Buzolic
Michael Trevino and Zach Roerig
Paul Wesley and Ian Somerhalder
Took a bit of a break before meeting duo Alex and Sierra at a free concert and meet and greet after their X Factor win.
Also met country singer Hunter Hayes
I then went to HVFF in NJ in January, which ended up being snowmageddon, but it was worth braving the storm because Stephen and Robbie Amell were taking pics at the restaurant next door.
I was also able to get signatures on this these pieces. I wasn't able to finish the poster because of all the guests that cancelled, but I was able to finish it at the rescheduled con.
Got these at Wizard World Cleveland
Chloe Bennet and Elizabeth Henstridge from Agents of Shield
Chris Hemsworth
Went to a Rachel Platten concert where Christina Grimmie opened. Was able to meet Christina after the show, unfortunately this was only a couple months before she was killed.
CW Upfronts
Rachel Bloom from Crazy Ex-Girlfriend was super nice, literally took pictures with anyone who wanted one
Same with Gina Rodriguez from Jane the Virgin
Mechad Brooks was too tall so I cut off the top of his head...oops
Marie Avgeropoulos from the 100
Madelaine Petsch from the new series Riverdale
Carlos Valdes from the Flash
Jesse L. Martin from the Flash
Isaiah Washington from the 100
Brandon Routh from Legends of Tomorrow
The next big con for me was Wizard World Philly. The photo ops were a pretty big mess with huge delays that caused me to miss my Chris Hemsworth auto :( but it was pretty awesome meeting all the Marvel actors
Sasha Banks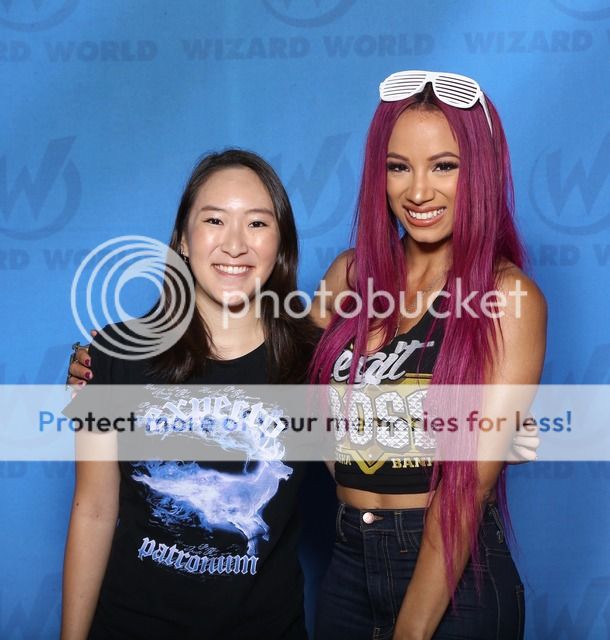 The First Avenger Cast Op
Avengers Cast Op
Dominic Cooper
Chris Evans and Hayley Atwell
Group op with current (and possibly future Captain Americas)
Pieces I was able to get done
It was then onto the rescheduled HVFF. They got back all the guests that had cancelled due to the storm, so that was pretty great.
Ciara Renée
Cody and Brandi Rhodes
this was the cheapest combo at the con because I think I got an auto from Cody, an auto from Brandi, and the photo with the two for $30
Stephen Amell and Colin Donnell (I still miss Tommy)
Stephen Amell and Cody Rhodes
I got into wrestling after their Summerslam match, so this duo pic was pretty cool
Milo Ventimiglia
Definitely one of the nicest celebs. Was a fan of his since Gilmore Girls and his new show This is Us is pretty great.
Danielle Panabaker
Stephen Amell
Arrow Cast Op
I then headed to WSC because even though I don't watch Walking Dead, I like a couple of the actors for their previous work.
Emily Kinney, really liked her role on the Flash
Max Thieriot (honestly my sister and I just got the picture because we thought he was really attractive)
Austin Nichols, loved him on One Tree Hill
Christian Serratos, she had a large role on Ned's Declassified, which was my favorite childhood show
Some concert meets:
Nick Jonas
Hailee Steinfeld
I then headed to Ringside Fest because I really liked all four of the guests
Bayley
Daniel Bryan
Finn Balor
Sasha Banks
I also found a picture of me with Bayley on WWE's website so that was pretty cool
Wizard World Pittsburgh
the guest list for this con ended up being pretty disappointing, but I still decided to go
Finn Balor
Evan Peters from X-Men
I then headed to RICC for Gal Gadot because I was already a fan of hers from Fast and Furious and was ecstatic when she was cast as Wonder Woman. I think she was easily the best part of Batman v Superman and I'm super excited for the Wonder Woman movie. I went all the way to RICC just in case she never does another con when she gets bigger. Since I was already there, I got some TV actor wants as well.
Falk Hentschel from Legends of Tomorrow
Brett Dalton from Agents of Shield
Mehcad Brooks from Supergirl
Legends of Tomorrow Group Op
Gal Gadot
Finally, my latest con was Steel City Con last weekend. After WW Philly and RICC, this was a nice small con. The line for Bonnie Wright was decent, but the line for Chris Jericho was completely insane.
Jonathan Lipnicki from Stuart Little
Chris Jericho
Bonnie Wright
One thing to note, this con also used Froggy's, but I got my JPEG that same day...so maybe Froggy's just shouldn't try to handle larger cons like RICC
Thanks for reading this report!