Tough. But Ill say Lebron in 6
---
---
---
Marked Out Master
Posts: 1727
Joined: June 6th, 2009, 6:32 pm
Location: Mechanicsburg, PA
Contact:
I want to say 7 games, but I cant see the Cavs winning a game 7 at Oracle. Lebron's the best player and he has done so much in this playoffs. I'll take Bron in 6.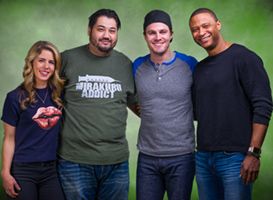 http://www.cmshowstopper.com/
Official Webpage Of CM Showstopper
http://www.fallenangelchristopherdaniels.com
Official Webpage of Christopher Daniels
---
I got Cavs in 6. Want to see JR win a ring.
---
Spoke to soon...i think Golden State is just that damn good....pretty torn here
---
---
Wat a great first game!!!!
---
---
---