Talk about crazy timing...I made plans with 8 of my really good friends to hit Vegas in honor of one of the guys' 40th birthdays, from Thursday May 4- Sunday May 7..another 6 guys (friends of the birthday dude) were also coming, making us a group of 15; was a tremendous weekend, stayed at MGM, dinners at Craft Steakhouse and Tao; hit a few clubs (Intrigue and Tao), a few after hours clubs I won't name here; saw Dave Chappelle live, shot guns at Battlefield Vegas; pretty much open bar at a cabana we rented for the day at our pool, plus gambling on baseball, the Derby (awesome experience to watch this at the Caesar's sports book), blackjack, etc. Was a great atmosphere with the Canelo-Chavez fight in our area, etc...I saw Canelo's brother who people were taking pics with and I'm sure I could have too but passed as I don't follow boxing and looked him up and he didn't seem like a name I would care about..although on our way to the Chappelle show, waiting in the taxi line, Michael Buffer walked right past where we were and he might have been obtainable but by the time I realized it was him, it was too late..he introduced Chappelle with his trademark introductions at the show..I assume he did the fight too..
Anyway, this is relevant because after the dates for our trip were chosen, I noticed that the Cauliflower Alley wrestling annual banquet was to be held Monday May 1 through Thursday May 4; while my crew was flying on a 7:00 am flight out of NJ the morning of May 4, I couldn't resist flying in a day or 2 early to check Cauliflower out, a show I have read about for years but would never fly out for on its own..I flew in Tuesday night, and figured I would have all day Wednesday to check out the wrestling stuff.
Nutshell version, it was a decent experience but for me, nothing earth shattering..all the old time wrestlers I would have interest in that were previously staples at this event are either too old to travel or have passed away..But there were some cool things about the show that made it fun for me anyway..First off, the event is held in the Gold Coast, a hotel I have read isn't the greatest..so I found an amazing deal on the Rio, a less than 5 minute walk to Gold Coast for $30 a night plus a food and drink $ 25 credit! and the room was a suite, huge, couch, chair, giant bed, etc..So I went back and forth between the hotels.
The charges to attend this thing, if you wanted to attend the banquets were $ 25 I think to join CAC for the year and $ 120 for the banquet making it approximately $ 150.00 for the weekend.
I arrived around 7;00 p.m. Tuesday night, I headed over for the Bockwinkle Baloney Blowout, where they gave awards to the GLOW ladies...the food was included, was basically a buffet of make your own sandwiches, turkey, roast beef, baloney, cheese, salads, etc. I hung lone enough to eat, watch a few minutes, then I took off to hang out in the sports book and gamble. I kept my time there mellow as I knew once my crew arrived on Thursday, the weekend would take on a life of its own.
Slept in Wednesday morning, grabbed a $ 7.99 breakfast buffet at the Gold Coast and hit the vendors room. Before I left NJ, there were 3 autographs I was hoping for, all on posters but I was debating not bringing anything with me because I didn't want to lug it around all weekend. The posters I had need for were the destroyer, Lady Blossom, who they announced was selling her book there, and Tony Garea, who was originally announced to be appearing with Rick martel, but then martel was no longer appearing and I didn't hear anything about Garea. I saw on instagram someone post a pic with Destroyer so that confirmed he would be there and I brought the posters.
The vendors room was cool, in that pretty much no one charged for photo ops. Destroyer signed my poster for free. Lady Blossom (Austin's first wife, a valet/ wrestler) sold her book autographed for $ 20 which included a photo op and another item signed. So she signed the poster I had for her. Didn't see Garea around. All the GLOW girls there were doing free photo ops. They also did a q and a type thing that afternoon, and they did free photo ops there as well.
The banquet was a strict no autograph place and they would apparently boot you if you tried. So I did not bring my Garea poster. Of course, Garea appeared at the banquet and I knew I could get him after it ended. So during a boring speech, I went back to my hotel and got my poster and brought it back. When the banquet ended, Garea gladly signed for me. Everyone happily took photo ops at the banquet as well.
Over the course of the day, I got the following photo ops, including vendor room and banquet, some of which I pokemon'ed as well just for the hell of it: Brian Blair, Buddy Lane, Colonel Debeers, Diablo (some old masked wrestler I think from California), Godfather, La Fletcha Fugaz (masked dude from cali), Jerry brisco, Lady Blossom, Marshall Von Erich, Moondog Morretti, Pat Patterson, Pepper martin, Sgt. Slaughter, Tokyo Monster Kahagas, Tony Garea, and Dave Meltzer who writes the Observer, who was there for an award.
Also got photo ops with the following GLOW girls: Angel, Beastie the Road Warrior, Daisy, Dallas, Godiva, Gremlina, Hollywood Jeanne Basone, Lightning, Little Egypt, Matilda the Hun, MTV, Palestina, Roxy, Royal Hawaian , Sunny, Tulsa and the creator, who is a big Hollywood guy, Matt Cimber.
If you wanted, you could have also met Jim Ross, Gene Okerlund, Sam Houston, Ricky the Dragon Steamboat, Bob Orton, as well as a bunch of indy guys and prob some guys I'm leaving out.
Some people were selling autographs in the vendor room and merch but anything I wanted photo op or auto wise was free.
Overall it was a decent time, doubtful I go back though unless it falls in line with another Vegas trip and that's likely not on the horizon for a while.
Not posting all the pics, too much trouble to upload and who cares anyway....here are a few..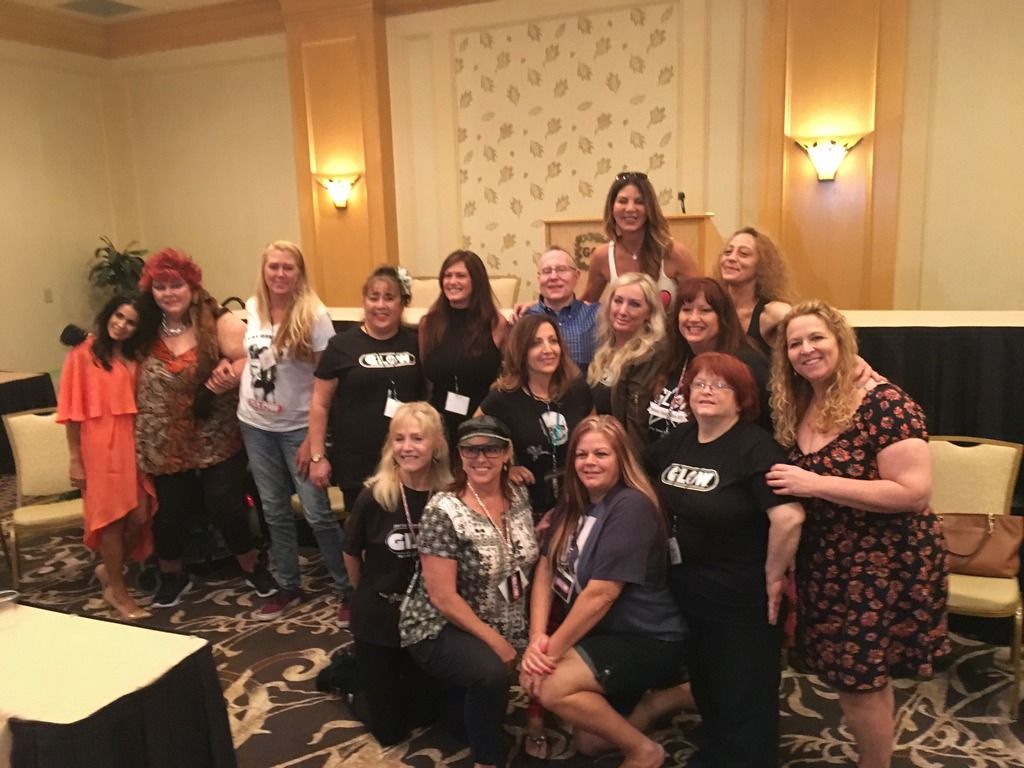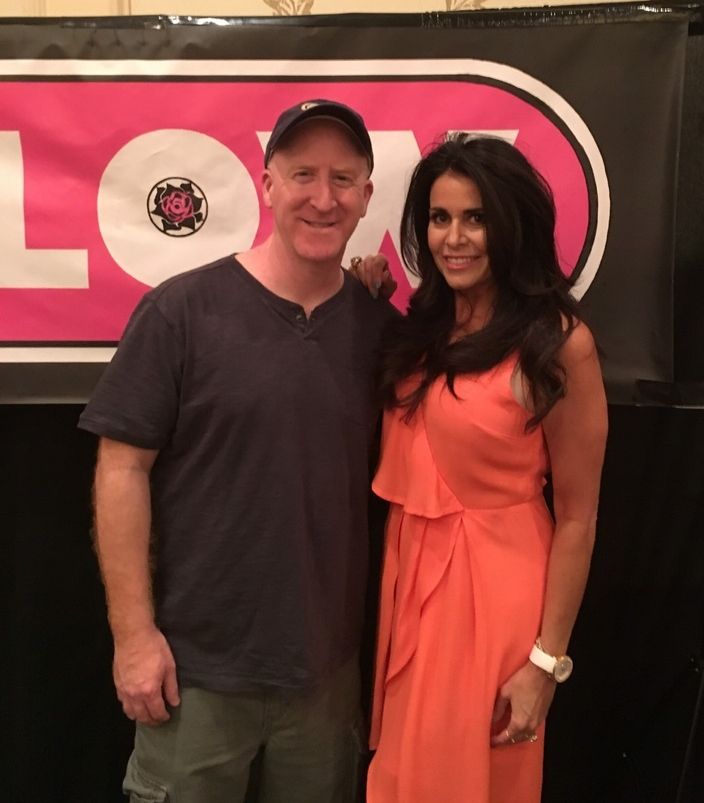 Little Egypt
Lady Blossom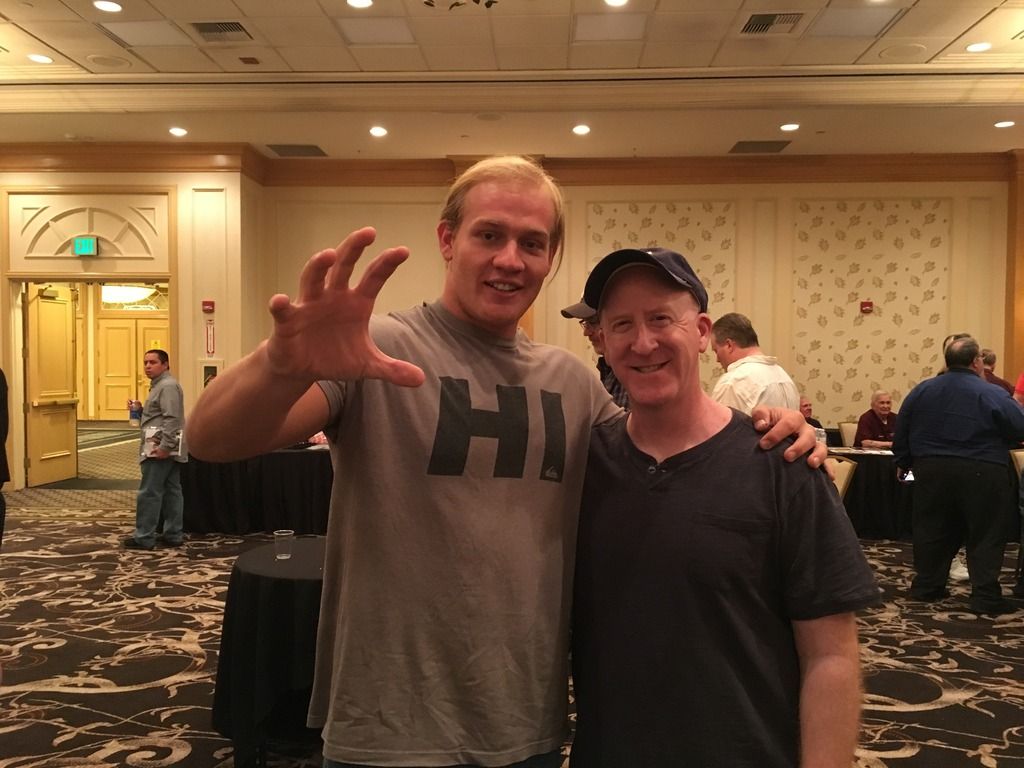 Marshall Von Erich
Tokyo Monster Kahagas
Hollywood Jeanne Basone